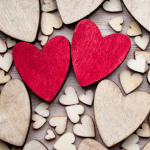 Love is a splendid thing as Valentine's Day reminds us, but it can take many different guises. Overshadowed by the reigning romantic love that runs the gamut of outcomes in many a Hollywood movie, many different types of love are not given their fair share of time in the limelight. Ancient Greek has four distinct words usually referenced for love: agápe, éros, philía, and storgē. Th...

Read full article: The Many Types of Love: Fragrances Valentine's Day from Fragrantica Perfumes and Colognes Magazine....
Published By: Fragrantica.com - Tuesday, 13 February





Older News
Kenneth Cole For Her For Him Kenneth Cole introduces two new fragrances — Kenneth Cole for Her and Kenneth Cole for Him — and a new concept of mix and match scents with The Personalization Fragrances trio...

M.INT Perfumes Trigger Emotions The Italian perfume house M.INT turned out to be my greatest discovery of The Scent Dubai perfume art-exhibition. A great number of fragrances, since M.INT is launched with four collections...
ETERNITY AIR by Calvin Klein   CALVIN KLEIN is coming out with a new, refreshing duo in February 2018. The two fragrances Eternity Air for Men and Eternity Air For Women are the latest flankers...