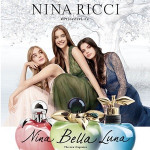 Nina Ricci presents the new fragrance called Bella in May 2018, as the new heroine of Les Belles de Nina, which includes editions of Nina (2006) and Luna (2016). Les Belles de Nina Bella is the third chapter in the saga of modern princesses. Nina is conceived as a romantic dreamer, Luna is the mysterious one, and Bella is sexy, daring and rebellious.

The fragrance is a fresh and vibrant ac...

Read full article: Nina Ricci Bella from Fragrantica Perfumes and Colognes Magazine....
Published By: Fragrantica.com - Wednesday, 16 May