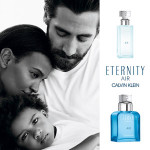 CALVIN KLEIN is coming out with a new, refreshing duo in February 2018. The two fragrances Eternity Air for Men and Eternity Air For Women are the latest flankers of the famous Eternity fragrances Eternity for Women (1988) and Eternity for Men (1989).

"Creating a new, fresh Eternity signature, the Eternity Air male and female fragrances capture all the different shades of the atmosphere ...

Read full article: ETERNITY AIR by Calvin Klein from Fragrantica Perfumes and Colognes Magazine....
Published By: Fragrantica.com - Tuesday, 20 February