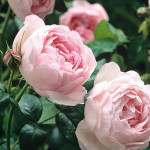 The Rose Festival has just ended in Grasse, so, inspired, we can focus on our own abilities to recreate a rose paradise, big or small, in the garden or even in the living room.

I would like to share with you my own discovery: English roses are suitable for hardier climates than the fortunate Mediterranean. California, where I live, does not have the worst climate in the world, so here, my E...

Read full article: English Roses: Interview With The Famous Rosarian David Austin from Fragrantica Perfumes and Colognes Magazine....
Published By: Fragrantica.com - Wednesday, 16 May