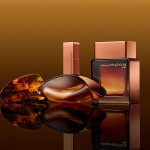 New limited editions of the original Calvin Klein fragrances Euphoria from 2005 and Euphoria Men from 2006 arrive in the spring of 2018 as Euphoria Amber Gold and Euphoria Amber Gold Men. The fragrances follow the oriental editions such as Euphoria Gold (2014), Euphoria Liquid Gold (2014) and Euphoria Pure Gold (2017).  

The new fragrances promise an "intoxicating revelation of sensual ...

Read full article: Calvin Klein Euphoria Amber Gold from Fragrantica Perfumes and Colognes Magazine....
Published By: Fragrantica.com - Monday, 16 April