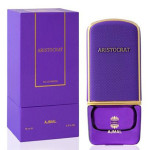 Last year, the perfume house AJMAL from the United Arab Emirates, presented the masculine fragrance Aristocrat, offered to a man who prefers a refined style and elegance in fragrance. The fragrance for men was composed of floral, woody and musky notes with a watery and fruity accord of watermelon and lime.

In May 2018, Ajmal adds a women's edition, ARISTOCRAT FOR HER, to their Aristocrat men'...

Read full article: Ajmal Aristocrat for Her from Fragrantica Perfumes and Colognes Magazine....
Published By: Fragrantica.com - Tuesday, 15 May